Monday, March 02, 2015

AdNU Press, April 2015: Ticao Island entrusts us a poet as sincere as its unsullied shores and as furious as the strait that shuttles us to its core.
Sunday, February 22, 2015
Ateneo de Naga University Press: The youngest university press in the country. The premier resource of Bikoliana in the world.
About Me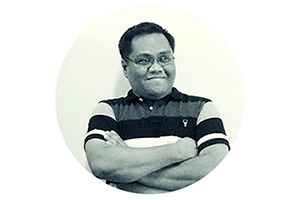 Victor Dennis Tino Nierva
is one of the leading poets and translators of contemporary Bikol literature. His first book of poetry in Bikol and English,
Antisipasyon
, won the 2007 National Book Award for Poetry. His book
Doros asín mga Anghél
,
considered as the first critical translation in a Filipino language of John Donne's canonical works, also won the National Book Award for Translated Book in 2013. As a graphic artist, he is known for the books he designed for the Ateneo de Naga University Press and other publishing houses. He is also into film, photography, theatre, and food. He was born in Naga City, grew up along the railroad tracks of Lupi, and is now residing in San Fernando, in Camarines Sur province. He loves children as well as trains.

Popular Posts
TWO WEEKS ago, I flew back to Naga for a musical presentation entitled HimIg (Himig Ignacio) featuring the Ateneo de Naga University Choir...

LIKE SCENTS, tastes bring us to places, remind us of events and affairs, and conjure within us old feelings. More often, these feelings...