Friday, December 16, 2016
"Girok: Erotika" is an 250-page anthology of poems, short fiction, translations, a screenplay, a musical arrangement, and visual artworks by around 90 Bikolnon artists.
Published by Kabulig Bikol, Inc. with assistance from V.C. Igarta Foundation for the Arts, New York, U.S.A. It will be launched on 28 January 2017, on the occasion of the 5th Pagsurat Bikolnon to be held at the Camarines Sur Polytechnic Colleges, in Nabua, Camarines Sur.
"Harayo-harani an hiling, parong, tanog, namit, hapiyap kan puso asin sensibilidad. Ini an duon kan Girok: senswal sa laman, nangkikitik; senswal sa isip, nagpapangalas, nagpapalayog. Mateng-matè ta an arualdaw nagdadanay sa hararumon na bubon, sa dakulaon na natad. An tikwil kan dagâ nagigin osipon nin mundo. An sagid kan tagiti nagigin masulog na salog. An huringhuding kan panganuron sa banggi nagrarawitdawit kinaagahan. Ta girok man nanggad an duon kan sensibilidad Bikolnon. Pirmi nang may tama, may masiram na pulikat."
— MERLINDA BOBIS
"An Girok bakong saro na naman sanáng katiripunan nin mga pagsurat Bikolnon kundi sarong napapalain na pagkadukay kun pànong an imahinasyon—urog na idtong napapalinya sa eros—pwedeng magin sarong paagi nin pasaysay na arte na malighang minakitik sa agimadmad kan parabasa, alagad minatukdo sainda na masabutan an kahulugan kan mga bagay-bagay na danay kutâ sanáng malibog asin harayo."

— GREG CASTILLA
About Me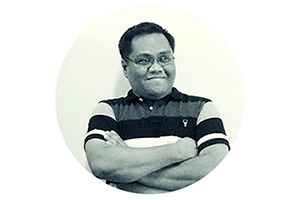 Victor Dennis Tino Nierva
is a son of four Bikol towns: Lupi, Nabua, San Fernando, and Naga City. He is a poet, translator, industrial and book designer, photographer, filmmaker, actor, editor, and environmental activist. His two books—

Antisipasyon asin Iba pang mga Rawitdawit sa Bikol asin Ingles

(2007) and

Doros asin mga Anghel: Translations in Bikol of John Donne's Holy Sonnets and Selected Works

(2011)—both won the national book—both won the Philippine National Book Awards. His interests vary: from rivers to trains, from the sciences to pastoral service, from choral music to films.

Popular Posts
TWO WEEKS ago, I flew back to Naga for a musical presentation entitled HimIg (Himig Ignacio) featuring the Ateneo de Naga University Choir...

LIKE SCENTS, tastes bring us to places, remind us of events and affairs, and conjure within us old feelings. More often, these feelings...